"He touched my butt!"
"Patti! Why do you get yourself into situations like that?"
"I stopped at the store because Paula wanted me to pick something up. He was standing ahead of me at the counter and we started talking. When I got outside he was waiting for me and he kept talking to me as I walked back to the car. He put his hand on my butt and held it there and told me he wanted to see me tomorrow."
"What did you say?"
"I said, OK."
"You slut!! After all the stories we've heard about that man? . . . How could you? … Why would you?"
"I'm a girl and he's a man, Peggy"
"You are a tramp!"
"A tramp. A slut. A whore. A whatever. I have a date tomorrow with a man who wants me.
Do you?"
"No Patti, I don't have a date tomorrow with a man who wants you. But I have a date tonight with a man who wants me."
---
---
---
---
"Who are you going to get it on up with tonight? Brad?"
"I like Brad, Patti. He has a penis that pleases me."
There are three loud knocks on the door.
On the first knock Peggy says, "That's Brad!"
Peggy opens the door and takes Brad by the hand. "Come inside."
She puckers her lips; then smiles and says, "Are you going to kiss me in front of my sister?"
"Sure."
Brad lifts Peggy up and plants a long smoochy kiss on her warm lips.
"That was a sweet and sexy kiss!" Peggy pants.
"There's more where that came from."
Brad looks at Patti who is staring at the floor.. "Hey Patti. How are you this evening?"
Patti gives a soft and sexy, "Hi Brad", followed by a shy smile.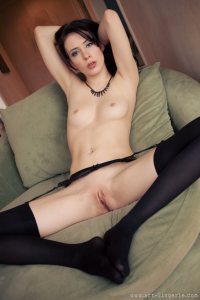 "Are you going to give me a kiss too, Patti?"
"Touch her butt and she'll do whatever you want."
Patti blushes and laughs and says, "Shut up, Peggy."
Brad smiles broadly, holds Patti's arms, bends over and gives her three quick and very loud kisses on her left cheek.
"Let's go," Peggy says, "That's all she's going to get from you tonight."
Patti's face is red and she is breathing heavily.
"Not so fast, Peggy. You let him kiss me and now I'm ready for more."
Patti points to the sofa. "Sit down Brad."
Brad smiles, gives a small shrug, walks to the sofa, sits down, pats his thigh and gestures for Patti to sit on his lap.
Patti's breathing is louder and is mixed with a loud nervous "mmmm" as walks over to sit on Brad's lap.
As she seats herself sideways on Brad's lap she lets out a shocked, "Oh!"
Her voice is high and trembling as she says, "I feel something hard and thick on my butt."
Brad's voice is low and soft in her ear. "Your sister said all I have to do is touch your butt and you'll do whatever I want."
"What do you want me to do?"
This story continues at – On Brad's Lap
---
The butt fucked girls of Team Skeet Butt Fucking let men stick dicks in their slutty butts.
Visit Team Skeet's Anal Section!
---