This story continues from On Brad's Lap.
Patti shocked herself when she pulled Brad's pants down and what she said next surprised Brad and Paula.
"Are you going to fill my slutty, dick hungry mouth with your hot sticky sperm?"
---
Watch four clips of this pretty blonde's mouth loving a stiff dick at Bad Ass Girlfriends.
---
She bent her head down to Brad's dick and put her nose right next to the head and breathed in.
As she gave him gave him a nervous girl smile, she allowed admiringly, "Your cock smells good."
Patti began licking her lips to get them wet with saliva.
She looked up at Brad and wantonly implored, "Hold my face in your hands and stick your tongue in my mouth."
Brad gladly responded and as his tongue went deep into Patti's mouth he was rewarded with one of Patti's soft hands rubbing the inside of his upper thigh and lightly touching his scrotal sac while the other wrapped around his dick.
---
Patti thrilled herself thinking about how nice Brad's penis was and how she wanted to suck his dick and lick his balls.
Patti pulled away from Brad's deep kiss and begged in a breathy whimper, "Please put your hand behind my head and guide my mouth onto your sexy dick."
When Patti got close enough to the tip of Brad's hard meat she began licking its head.  The more she licked his penis the more she wanted it in her wet mouth.
She said, "If you let me suck your sexy dick you can call me "Candy Ass" and make my butt your personal private playground."
When she could wait no longer she moved her head down to let the stiff pecker slide past her full lips and into her wanting mouth.
---
See pictures of Morgan with a stiff penis in her mouth at We Like To Suck.
---
After drilling Brad's stiff one in her throat Patti pulled up for a breath of air and asked, "Do you like the way I suck your dick?"
Brad grunted what sounded like a yes to Patti's delirious cock craving mind.
Patti said in a low whiny broken cry, "I love how your dick tastes. I want it in my mouth forever."
Paula's jealously waxed hotter by the second as she watched her sister Patti enveloping Brad's wet weiner with her insatiable slippery mouth.
When she'd had enough she got naked and on her knees and put a finger to her mouth and looked back at Brad and said in a loud whisper, "Fuck me in the butt."
---

First Anal Quest clips are wmv and may not play in your device.
Sofie Goldfinger gets poked in her butt by a penis in her film clips at First Anal Quest.
---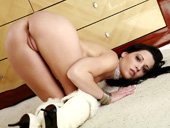 The butt fucked girls of Team Skeet's Teens Love Anal are girls who let men stick slick dicks in their butts.
Join Team Skeet's – Teens Love Anal
---