See more of naked pretty Colette and her full womanly lips and her shaved tender young pussy in her FEMJOY gallery.
---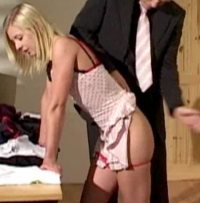 There are three video clips at Cinema Erotique.
In one, a sailor dreams of his sexy girlfriend.
In another, a voyeuristic brunette watches a groom spank his bride's ass.
In the last clip a blonde gets caught shoplifting while posing as a nun and gets her butt spanked.
Watch the Cinema Erotique video clips.
---
Maya Hills does the dirty oral sex deed at 1000 Facials.