See more photos of her spanking at Sarah Gregory Spanking.
---
This story began at Patti's Touched Butt and continues from On Brad's Lap.
Patti looks up at Brad and in a low quivering voice says, "You're going to . . . spank my butt?"
Patti takes a few deep breaths and changes the question to a demand and says, "Spank my butt."
"I'll give you some room to work, Brad." Peggy says as she moves down the sofa.
As Brad rubs Patti's belly and runs his fingers inside her jeans to unfasten them he says to Peggy, "Kneel on the floor in front of us."
Peggy does as she's told. Kneeling on the floor, she unbuttons her blouse so Brad can see her with her bra pulled up over her breasts the same way he left it.
Brad gets an arm under Patti's legs and lifts her up and pulls her jeans down to the middle of her thighs.
He lifts the elastic of her panties and peeks inside and moves his hand inside her panties and gives her pubic hair a tug then pulls his hand out and leaving her panties on gets his arms under her and rolls her on his lap until she is tummy down and butt up.
Brad puts his hand on her rear end, squeezes her butt cheeks through her panties, gives them a shake then lifts his hand and brings it down with a slap.
Patti lets out a high pitched "Ooo!"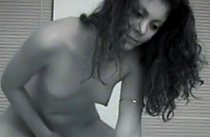 Brad pulls her panties down enough to completely uncover her ass.
Putting his hand on her butt he says, "I'd rather play with your ass than spank it."
Patti says in a low, dirty growl, "You promised to spank my butt."
"That's right Brad! I'm down here for the show." Peggy says, needling him with both a smile and a frown.
Brad raises his hand again and brings in down with a hard slap.
Patti lets out a loud, "Oh!" pauses a moment turns her head and looks at him and says, "Do it again."
Brad lets loose with a loud stinging slap.
Patti says, whimpering, "Spank my dirty butt."
Brad begins a series of strong loud slaps to Patti's bare butt and with each slap Patti lets out a yelp and says, "Spank my butt!"
After the penultimate slap, Patti says softly, "One more."
Brad administers the final slap on Patti's reddened ass cheeks.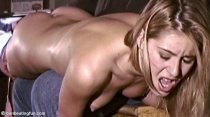 She looks back at him with dreamy eyes and a shy smile and says:
"Thank you."
"Thank you."
Brad says, "What are you going to do to thank me?"
Patti pushes herself up and says, "Scooch under my face and I'll kiss your prick.."
Brad moves over a bit so his lap is below Patti's head.
Patti bends down and gives Brad's dick a quick kiss through his pants. She pushes herself up so she is kneeling next to Brad and reaches down and unbuttons his pants and pulls his zipper down.
She turns to Peggy and says, "Pull his pants down."
Peggy leans forward gets her hands inside Brad's pants and says, "Lift up."
Brad lifts himself up and Peggy pulls his pants down to his ankles.
This story will continue.
---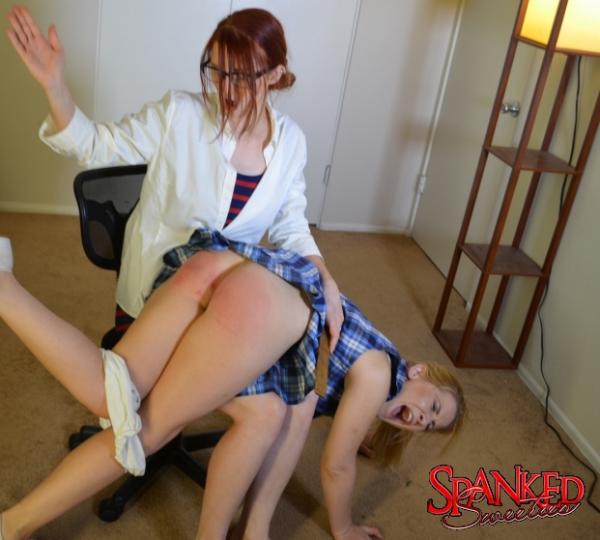 Redhead Veronica Ricci spanks blonde Whitney Morgan at Spanked Sweeties.
---
Watch four short tube clips of a cute brunette giving a sexy blowjob at Bad Ass Girlfriends.
---
Maza spreads her legs in her Stunning 18 "Busty" gallery.
Watch one of beautiful newcomer Maza's photo shoots from Stunning 18.