This story began at and continues from Patti's Touched Butt
"Wiggle your butt and stick your tongue in my ear."
Patti begins to wiggle her butt on Brad's hard thick penis. She leans closer to his head and sticks her tongue in his ear.
Brad's puts his hand between her legs and begins rubbing her thigh.
Patti's breathing and "mmmm" noise is even louder than it was when Brad told her to sit on his lap.
Peggy is watching them with a mixture of hurt, envy and excitement.
"How much farther are you going to go with him, Patti?"
Patti continues wiggling her soft ass on Brad's stiff dick. She pulls her tongue out of his ear and begins to give him the same kind of loud smoochy kisses on his cheek that he had given her and then begins alternating between licking his ear and smooching his cheek.
Brad looks at Peggy and extends his hand out for her to hold. She walks the few steps to the sofa and takes hold of his hand.
With her hand in his, he guides her to sit on the sofa next to them. Peggy looks nervous and cross as she sits and says, "Now what?"
Brad brings his hand to her hair and twirls it as he sticks his finger in her ear. He pulls her head closer to his mouth and sticks his tongue in her other ear.


He takes his finger out of her ear and sticking his hand under her blouse runs his hand up her back and unhooks her bra and pulls it up over her breasts.
Brad moves his hand to her breasts and begins moving his hand from beast to breast lightly pinching and twisting her nipples.
As he plays with Peggy's nipples, Brad moves the hand that has been rubbing Patti's leg further up her thigh
Patti pulls her tongue out of Brad's ear and says in a breathy whisper too soft for Peggy to hear, "Move your hand higher."
Brad keeps his hand where it was on her thigh but extends his finger toward her clitoris and begins deftly flicking it.
At the first flick on her clit Patti throws her head back and lets out a loud moan.
She cries out: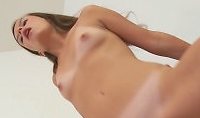 "Oh you, man!
You man!
You're touching my pussy!"
Patti's ecstasy has freed Brad to move his head away from Peggy's ear and down to her breasts. He takes a nipple in his mouth and sucks it hard as he twists it around with his tongue.
As Patti continues to moan and whimper while Brad has his way with her pussy, Peggy teasingly echos her sister saying:
"Oh you, man!
You man!
You're sucking my titty!"
Despite the intensity of the situation she is in, Patti keeps her sense of humour and says through her moans, "Shut up, Peggy."
Matching the good humor mixed with high sexual tension Brad pulls away from Peggy's nipple, stops flicking Patti's pussy and says, "You shouldn't talk to your sister like that.
You need to have your butt spanked!"
Their story continues at Patti's Spanked Butt.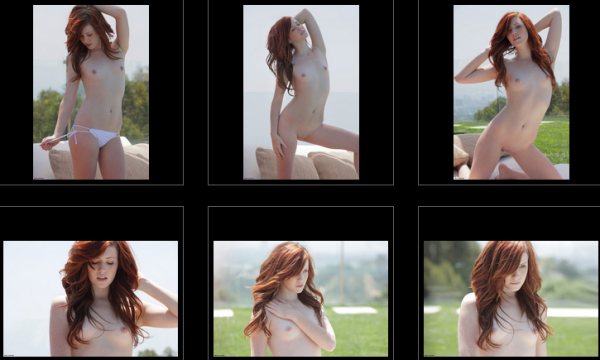 Watch long haired redhead Elle finger fuck herself and pat her pussy in her masturbation video at X-Art.